Harrison Demchick, novelist, screenwriter and developmental editor at Ambitious Enterprises, will speak November 19, 2014, to the Annapolis chapter of the Maryland Writers' Association.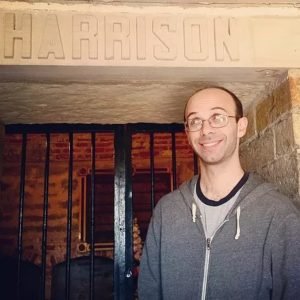 The Skeleton in the Closet: What Film Structure Can Teach Us About Crafting Our Stories
The world of film is filled with comedy and drama, sci-fi and fantasy, thriller and romance, and everything in-between, but what many don't realize is that nearly every film boils down to the same three-act structure. Novels and memoirs are different, based upon a less precise formula of inciting incident, rising action, climax, falling action, and denouement. But there's a lot we can learn about general story structure by focusing on three-act film structure. This talk will explore what three-act structure teaches us about how and why stories are constructed, and how these lessons can be incorporated into our own writing.
Three things this presentation will teach you are:
How inciting incident, rising action, climax, falling action, and denouement are reflected in the precision of three-act screenplay structure.
What the precise location of plot points in film, specifically points of no return, can teach us about building a story through the principle of cause and effect.
Why the protagonist typically faces his lowest moment, sometimes called the all is lost moment, shortly before the climax in the third act—and why novels and memoirs can benefit from this approach as well.
About the speaker: Harrison Demchick came up in the world of small press publishing, working along the way on more than two dozen published novels and memoirs, several of which have been optioned for film. An expert in manuscripts as diverse as young adult, science-fiction, fantasy, mystery, literary fiction, women's fiction, memoir, and everything in-between, Harrison is known for quite possibly the most detailed and informative editorial letters in the industry—if not the entire universe.
Harrison is also an award-winning, twice-optioned screenwriter, and the author of literary horror novel The Listeners (Bancroft Press, 2012). He's currently accepting new clients in fiction and memoir at Ambitious Enterprises.
This and all meetings are open to the public and free to MWA members and first-time guests. All others may pay $5.00. Annual dues to MWA are $40.00 and include other benefits on top of monthly attendance. MWA meetings meet the third Wednesday of every month at 7:00 p.m. in Room 205 at Maryland Hall, located at 801 Chase Street, Annapolis, MD 21401.