On Wednesday, August 19th, MWAA hosted its first-ever Open Mic Night. Not only was the room packed, but we all got to enjoy hearing the wonderful work–both published and still in progress–from the participants. We will definitely be repeating this event in 2016, so stay tuned for more details.
Here are some photos and summaries of the work that people shared. Thanks to everyone who participated!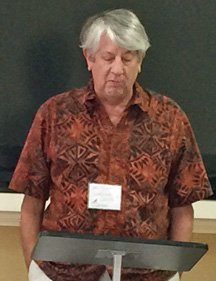 Mac Bogert (azalearning.com) read from his upcoming book, Learning Chaos: How Disorder Can Save Education, coming out this fall. Mac has spent 40 years as a teacher, actor, musician, curriculum designer, mediator, professional sailor, and executive coach, and the central idea of his book is that learning is the default setting for the human brain. His work shines a light on what's wrong with our education system and what we can do―must do―to change schools at every level.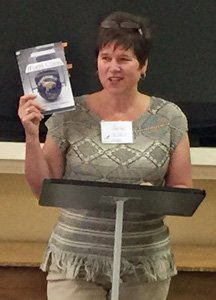 Jane Elkin (broadneckwritersworkshop.com) read from her chapbook, World Class: Poems Inspired by the ESL Classroom, which was published last year by Apprentice House Press, as well as from her new collection on family history, which is a quarter-finalist in the Mary Ballard Poetry Chapbook Competition.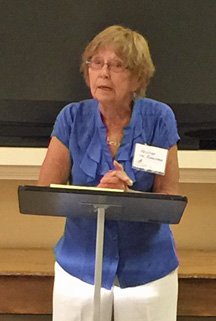 Kristina von Rosenvinge read from Escaping the Russian Bear, a young Estonian girl's memoir of loss and survival during World War II. The excerpt described the family's flight from Estonia on one of the last remaining transports, just ahead of the invading Russian Army. The memoir is scheduled to be published this fall.
Deborah Keaser read from her work-in-progress Mama Left Me, and also read a poem in tribute to mothers. Now retired, Debbie had a long and varied career that included work as a civilian in Saigon in 1974-1975 (she left three weeks before the fall of Saigon), and for 21 years with ARC, a community-based organization that advocates for and supports people with intellectual and developmental disabilities and their families.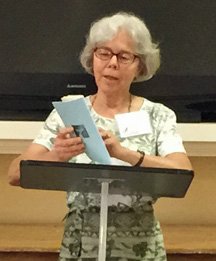 Judy McCahill read from one of the non-fiction stories collected in her chapbook, Sketches for a Weather Report. In the excerpt, a windstorm has downed a mature tulip poplar in the front yard of Helga and Fred Anderson. It grazes the porch roof and narrowly misses them where they sit in their front room. Helga tells a neighbor what it will take to restore order to the garden and the two cars, and about deaths in her childhood family. She is philosophical about her roles in their aftermath, saying, "My grandmother told me death was part of nature."
Ted Weber read from his cyberpunk novel The Freedom Thorn. A conglomerate called MediaCorp has reconfigured the Internet and controls all content. Waylee Freid is an unemployed journalist and musician in a decaying near-future Baltimore, fighting an ever-worsening bipolar disorder. Frustrated by the injustice of a system that benefits only a few, and the apathy of a population content to lose themselves in a virtual reality called Better World, Waylee and her countercultural friends bust a notorious teenage hacker out of jail and sneak into a closed election fundraiser at the Smithsonian castle, where they record incriminating admissions by a corrupt president and the power-mad MediaCorp CEO. Hunted by Homeland Security, Waylee and her friends must reach a substantial audience by broadcasting their video during the Super Bowl. But to do so, they will have to break into one of the most secure facilities ever built.
Sally Whitney (sally-whitney.com) read from her forthcoming novel Surface and Shadow, which is scheduled to be released this year. Her short stories have appeared in literary and commercial magazines including The Main Street Rag, Kansas City Voices, and Pearl, and anthologies, including Uncertain Promise, Voices from the Porch, New Lines from the Old Line State: An Anthology of Maryland Writers and Grow Old Along With Me—The Best Is Yet to Be, among others. Sally's stories were also finalists in The Ledge Fiction Competition and semi-finalists in the Syndicated Fiction Project and the Salem College National Literary Awards competition. She is a contributing editor to the Late Last Night Books blog.
Bob Arias, who has several published works under his belt, read from a work-in-progress about a local police force investigating a murder.