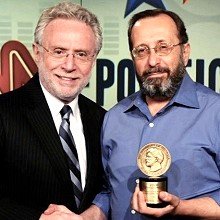 For twenty-five years (1988-2013), John DeDakis was deeply involved in CNN's coverage of almost every major national and international news story, retiring in 2013 as a Senior Copy Editor of CNN's "The Situation Room with Wolf Blitzer." DeDakis, whose journalism career began when he was tear gassed in 1970 while covering an anti-Vietnam War riot for a Madison, Wisconsin radio station, will trace the rise and role of journalism especially in these toxic times.
To register for this online Zoom meeting, visit:
https://us02web.zoom.us/meeting/register/tZMtcuCgpz8jE9EpbkrjLEjaRCD2QlHOJ62q
Journalist, novelist, and writing coach John DeDakis is the author of five novels in the Lark Chadwick mystery-suspense-thriller series. His fourth novel, Bullet in the Chamber, is the winner of Reviewers Choice, Foreword INDIES, and Feathered Quill book awards. His most recent novel, Fake, is a winner of the 2020 Reviewers Choice Award. In Fake, Lark is a White House correspondent dealing with "fake news" in the era of #MeToo when facts are suspect and reporters are targets. DeDakis, a former White House correspondent, is a manuscript editor, and regularly teaches novel writing online and at literary centers, writers' conferences, and bookstores around the country and abroad. In his spare time, DeDakis is also a jazz drummer. To learn more about John, visit www.johndedakis.com.