Looking for opportunities to grow your social media network and expand your portfolio of published works? Of course you are! Then you need to come to our July chapter meeting to hear our speaker, Tony Russo, who is looking for writers to contribute on a regular basis to a set of websites aimed at drawing visitors to specific locales. Here is Tony's overview:
I am the editor for a company that owns different destination websites, which we are in the process of developing. The principle sites that are either up and running or soon will be  are Annapolis.com, OceanCity.com, ShoreCraftBeer.com and WallopsIsland.org. The company also owns multiple state sites including Maryland.com, which we hope to develop over the coming year.
I would like to share my experience with writing for these popular websites, which has increased my social reach and profile. It has helped with book sales for sure, and I am confident that blogging for ShoreCraftBeer.com in particular gave me the credibility to get my first book contract.
Over the last several months, I have been experimenting with contributors to OceanCity.com and have noticed that they are doing well socially too. OceanCity.com has a massive following (more than 150,000 unique site users) for a site that is pretty niche, but the readership has responded positively to more lifestyle stories than I would have imagined.
My hope is to apply this model to Annapolis.com and, eventually, to Maryland.com. I would like to work to put together a collective of bloggers who use these sites as a way to boost their own work, as well as to support each other's.
Although many of my current contributors are fiction writers, we have worked out a plan for channeling their creative energy into nonfiction, mainly journaling and travel writing. I workshop and edit and accept and refine pitches so that not only are writers doing better work than they would on their own, they also are getting positive feedback and experience working with an editor as one might in a newspaper. People may contribute as much or as little as they choose.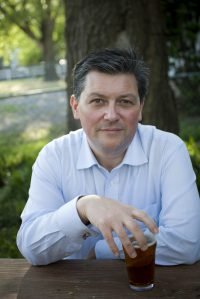 About the Speaker: Tony Russo has worked as a print and digital journalist for the better part of the 21st century, writing for and editing regional weeklies and dailies before joining the team that produces Annapolis.com and OceanCity.com, among other destination websites. In addition to having documented everything from zoning changes to art movements on the Delmarva Peninsula, Tony has written a couple books on beer culture for The History Press. He cohosts the writing podcast "So What's Your Story?" and the beer culture podcast "Beer with Strangers."
Tony lives in Delmar, Maryland with his wife, Kelly and the only of his four daughters who hasn't moved out. Together they keep their two dogs comfortable.
Follow Tony at @Ossurynot on most social media, although he's meanest on Twitter.