In 1817, German Romantic writer E.T.A. Hoffman (1776 – 1822) wrote the short story "The Sandman". Hoffman was in the vanguard of the short story movement. He did not anticipate that nearly two hundred years later his work would be the inspiration for a 1959 mobster graphic novel, Mobtown. On the eve of the release of Issue One, James will discuss the journey of his short story "The Enchantress" as it transformed from a pastiche into the graphic novel Mobtown, which also paused briefly in an adaptation as a screenplay. James will peel away the layers of the creative process and venture (the good, the bad, and the ug… er, beautiful). He'll share the business model that has wrapped itself around what can loosely be labeled as a collaborative, creative franchise property. If you've ever wanted to create a graphic novel or wondered just what that beast is, James offers a lively presentation. And he'll take all questions!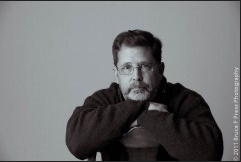 About the Speaker: James Gossard was just on location in the Central Valley of California working as the Script and Continuity Supervisor for the indie film The Drama Club, which wrapped principal photography in September 2015. More recently, he's co-authored a sci-fi short film, Apocalypse in 9-8, which will be produced in 2016.
Besides penning graphic novels and screenplays, James owns a company that consults and writes for businesses and provides business advice to artists. He created and hosts the web series Writer, write thyself!, which explores topics of interest in the writer's life. He regularly leads screenwriting workshops that focus on building a screenwriter's toolbox and understanding the elements that create a rich story in film. His workshops have been held locally at Balticon and for Women in Film & Video in Washington DC. He has also served as a screenplay judge.
Other projects include a rewrite of his Cory McCabe young adult novels, beginning with Grizzly Heart. He is also developing a volume of poetry, James Leslie on James Leslie. James also writes for stage. As a playwright, his plays have been produced and have received multiple awards, including the Maryland State Arts Council Individual Artist Award.
James studied creative writing at the University of Montana and received his M.A. in Writing from Johns Hopkins University. He is a member of Women in Film & Video, Maryland Film Festival, and The National Alliance for Media Arts and Culture. James lives with his wife Ann in Ellicott City, Maryland.
***
This and all meetings are open to the public and free to MWA members and first-time guests. All others may pay $5.00. Annual dues to MWA are $40.00 and include other benefits on top of monthly attendance. The MWA Annapolis chapter meets the third Wednesday of every month at 6:30 p.m. in room 205 at Maryland Hall. Maryland Hall is located at 801 Chase Street, Annapolis, MD 21401.