Plan to join us on Wednesday, 17 February, when award-winning writer and editor Katherine Pickett explains what we need to know to make the very best use of crucial editing resources.
Editors: Who They Are, What They Do, and How They Can Help You
If you plan to publish your work, whether by publishing it yourself or by finding a publisher, you will most likely seek the help of an editor. But what can an editor really do for you? What makes an editor an editor, and how can you be sure you have found a good one?
In this presentation, veteran editor Katherine Pickett will give you the inside scoop on
The types of editors you may be working with
What qualifies someone to be an editor
How to find and hire the right editor for you
What your role is when working with an editor
How you can save time and money throughout the editing process
About the Speaker: Katherine Pickett is the owner of POP Editorial Services, LLC
(www.POPediting.net), and the author of the award-winning book Perfect Bound: How to Navigate the Book Publishing Process Like a Pro.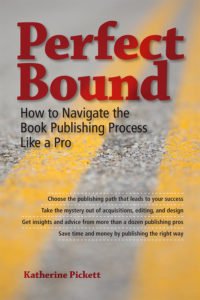 Through POP, Katherine offers copyediting, proofreading, and developmental editing to authors and publishers across the country. Since 1999, she has edited more than 300 books in a wide range of topics and genres. She is an active member of the Editorial Freelancers Association and the St. Louis Publishers Association and is president of the Montgomery County chapter of the Maryland Writers' Association. You can find her blog at www.thePOPnewsletter.com. Twitter: @KPickett_Editor.
---
This and all meetings are open to the public and free to MWA members and first-time guests. All others may pay $5.00. Annual dues to MWA are $40.00 and include other benefits on top of monthly attendance. The MWA Annapolis chapter meets the third Wednesday of every month at 6:30 p.m. in room 205 at Maryland Hall. Maryland Hall is located at 801 Chase Street, Annapolis, MD 21401.